Sauna Therapy Clinic Questions
Common Questions Asked by Clients: What does a sauna do for you? How long should you stay in a sauna for? Does sauna burn fat?
Saunas bathing can help lose weight, improve blood circulation, aid detoxification, improve skin, and have therapeutic stress-relieving properties. For more information, call us today at Petra's Massage Therapy & Weight Loss Clinic or schedule an appointment online. Our clinic is conveniently located at 7200 N May Ave Suite A Oklahoma City OK 73116.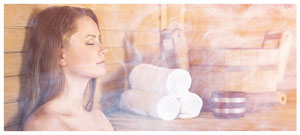 Table of Contents:
Relax & enjoy the warmth of a sauna
Benefits of saunas:
Relax & enjoy the warmth of a sauna


Feeling worn down? Take a break from the daily grind with a session in our sauna. The warmth and humidity of a sauna (also called a 'sweat house') help invigorate the body. This treatment has been used across cultures for thousands of years, and today nearly one in three people in Scandinavian countries use saunas, and they're often rated the happiest countries in the world.

Saunas raise the skin temperature to around 104 degrees, resulting in improved circulation and cardiovascular health, as well as a positive shift in emotional well-being.
Benefits of saunas:


• Relaxed mental state
• Improved circulation
• Reduction of Stress
• Better breathing
• Relief of skin irritation
• Lower blood pressure

Regain a sense of well-being by booking a visit to our sauna. We serve clients from Oklahoma City OKC, Midwest City OKC, Del City OKC, Valley Brook OKC, Forest Park OKC, Nichols Hills OKC, Bethany OKC, Spencer OKC, and Valley Brook OKC.